Behind The Scenes with Amelie Zilber
If you snagged our Blush & Bloom Duos Cheek + Lip Duo when it launched in 2020, then you already know how amazing it is. Well, I've got some news: we upped the ante on Blush & Bloom and have launched another one, but even better. 🚨 And this time...it involves a collaboration with my amazingly talented daughter Amelie Zilber.   
 
Here's a behind-the-scenes look at the photo shoot that created the campaign for the newest shade inspired by Amelie. It's limited edition. Has an empowering message. The first time we use "Clear Glow" as a shade. All the things. 
 
A little bit about Amelie: When she isn't hitting the books for college classes or being your typical 18-year-old, Amelie is a vocalist for change who uses her social platform to raise awareness on political and social issues. She's super inspirational and always encouraging others to be loud and be strong. Keep reading and you'll see how that inspired our collab.
 
Our first time on set since 2019 😱, it was absolutely exhilarating to be back in a creative environment with music blaring, inspiring people, makeup everywhere. Given the times, we were also extra cautious and followed proper protocol to keep each other safe—masks, face shields, the whole nine.  
 
Let's get into it...
Prepping for a great day on set just seven days into January 2021! We partnered with makeup artist Cherish Brooke Hill to bring our vision of the product to life. (Check out our get-to-know-her blog post here.) Cherish and Amelie were the perfect team.
The Urban Jungle Studio in downtown L.A. made it super easy to capture beautiful shots. How Jouer is this Victorian bedroom with its romantic décor, soft elements and utter sophistication.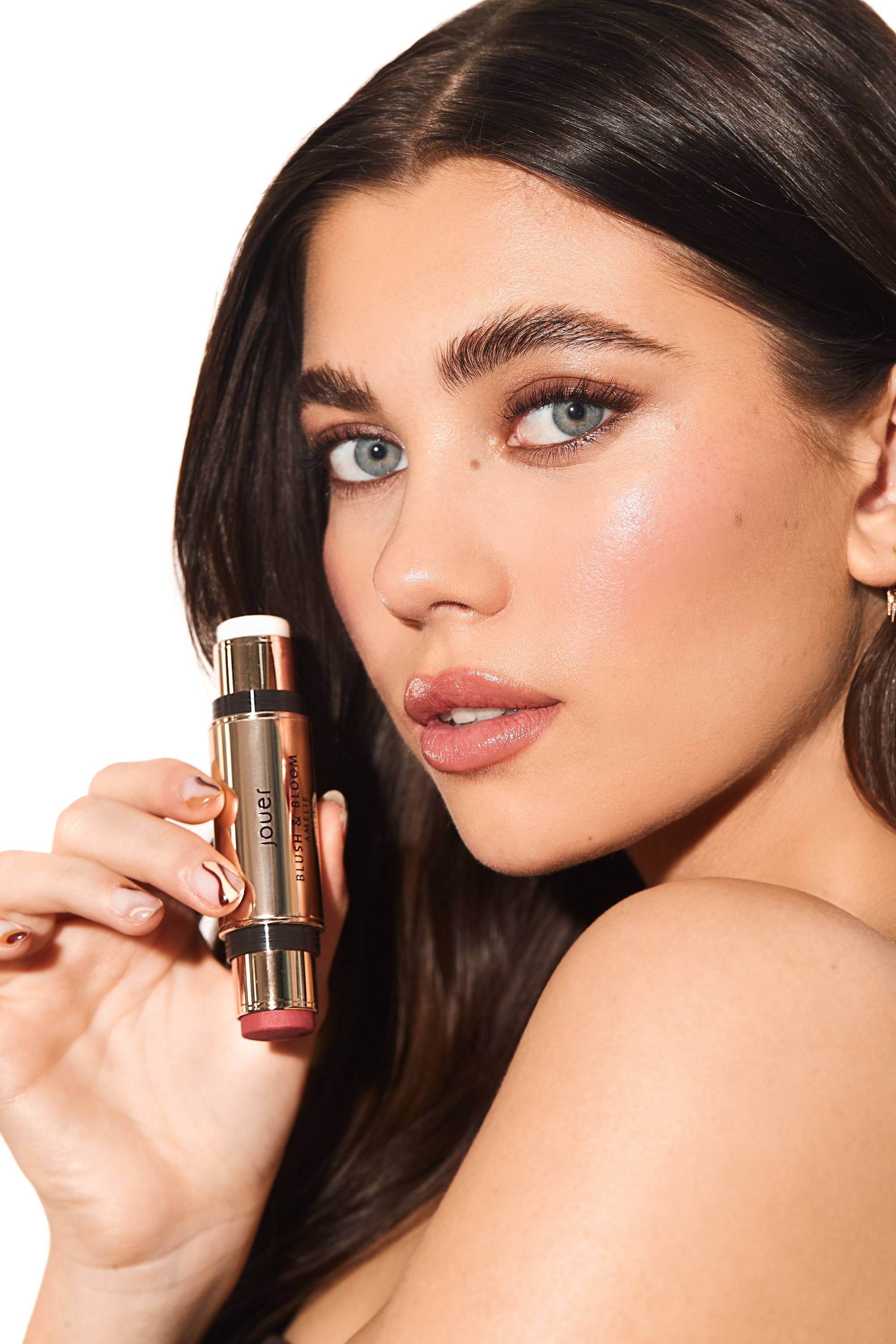 Here, we went with an evening look on Amelie, pairing a statement smokey eye with glossy skin and a nude lip, while also highlighting the versatility of the product. Be Loud in Bright Rose brought the perfectly pink flush to her cheeks and lips, while Be Strong in Clear Glow was layered on top to create a dewy effect. Magnifique!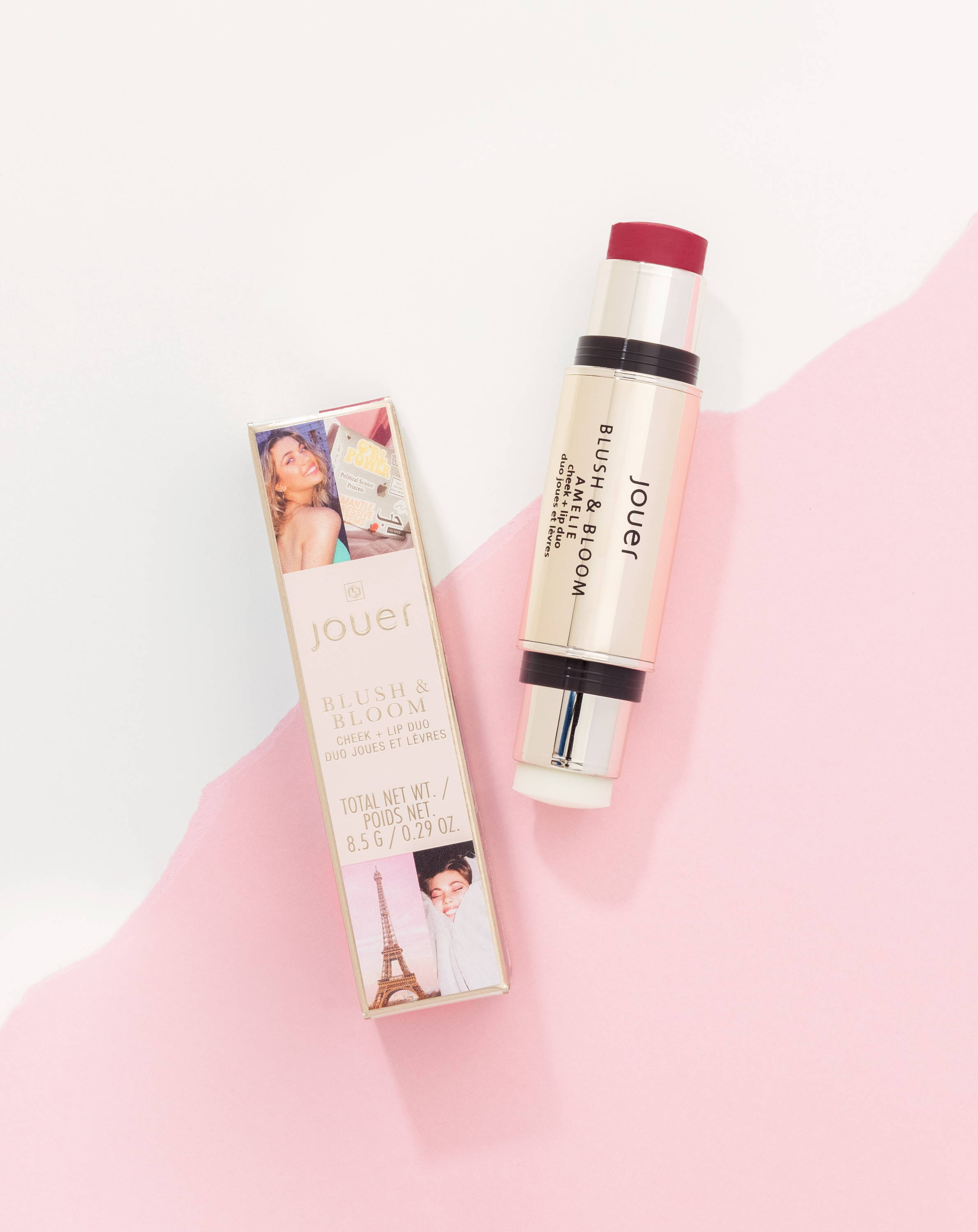 The Product: This incredibly hydrating formula melts into skin and blends easily. It makes skin look awake, revived, natural, and never feels sticky or greasy. Only soft and nourishing! And don't get me started on the shades. I love them! They're delectable with beautiful bright rose and a clear glow that brings a natural luminosity to the skin. 
 
The Packaging: I love how Amelie's personality comes alive on the fresh, fun packaging. Here, we incorporated meaningful photos that make the carton unique to Amelie. It has a shot of Amelie's laptop, she and her boyfriend Blake, the Eiffel Tower as a nod to her family's French roots, and a fun-loving picture of Amelie snuggled in a blanket. 
 
Check out the Jouer x Amelie Blush & Bloom Cheek + Lip Duo here. We hope you love it!