Attn: Makeup Lovers + Gift Givers! Our Holiday Collection is Here

I get giddy every year around this time. Why? Because the holidays are upon us. The gift giving, the holiday meals, I love all of it. On top of that, Jouer launches a Holiday Collection each year, chock full of the perfect holiday gifts, stocking stuffers, and collectables.  
This year's collection feels extra special because it's inspired by the city I love (and miss) most in the world. Where the romance and wine overflows. Where your senses are enveloped by the striking fashion, beauty, and art seen on every street corner. Not sure which city I'm talking about yet? Is it not obvious? I'm talking about Paris, France.  
And more specifically, the nights of Paris. MIDNIGHT IN PARIS. I'm big fan of beauty (if you haven't noticed), and there is nothing more beautiful than the Eiffel Tower lights at night. The bright, sparkling gold glow that brightens the deep, midnight blue sky is an unforgettable sight. So, we decided to create a holiday collection inspired by the extraordinary nighttime spectacle in Paris millions flock to see.
INTRODUCING THE MIDNIGHT IN PARIS HOLIDAY 2020 COLLECTION
Best Of Nudes Deluxe Lip Crème & Gloss Set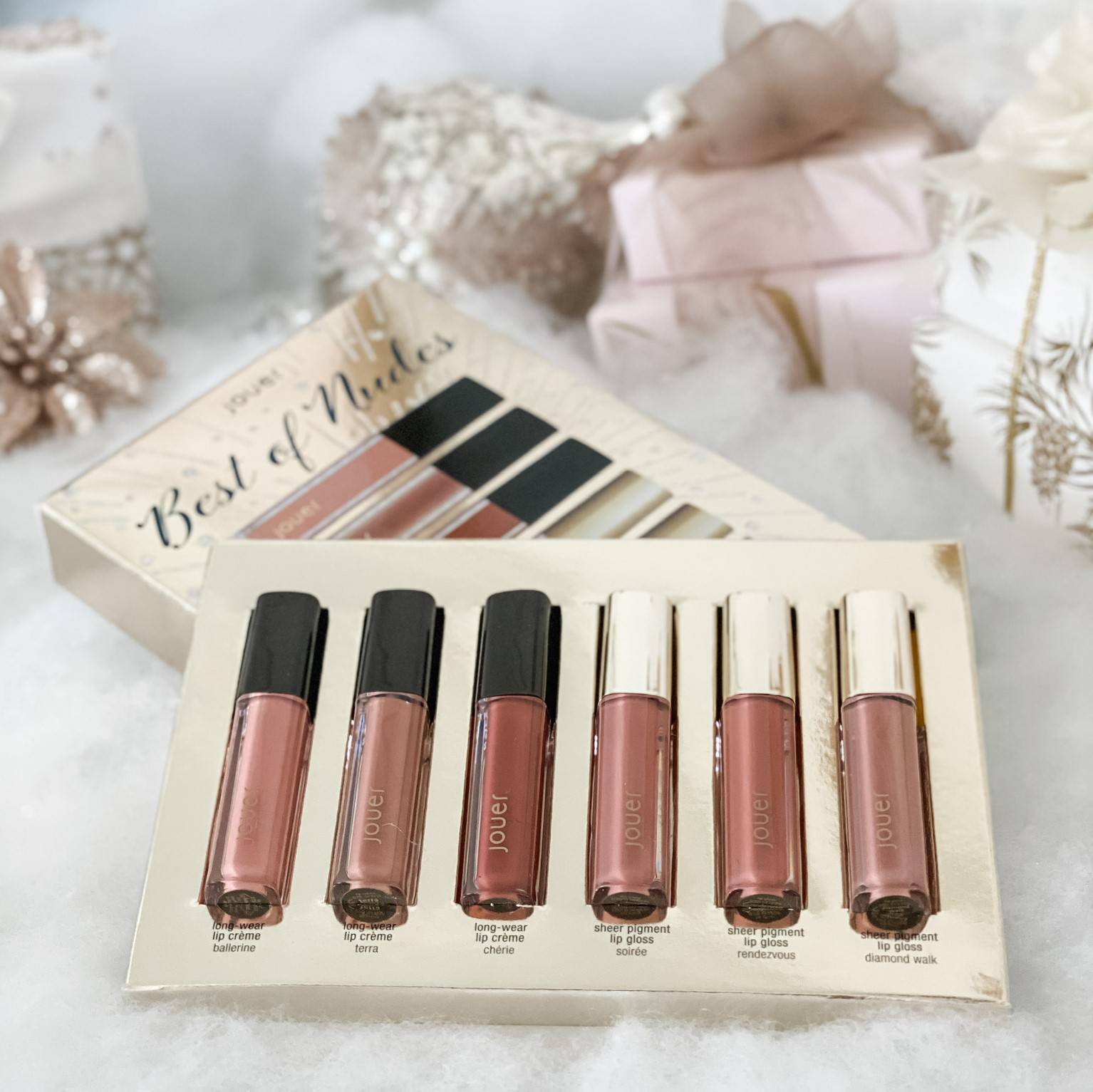 Nude liquid lipsticks and glosses look good on everyone—no matter what skin type. So, for one of my favorite holiday sets, we divvy up three of each to complete a set of six total with a Jouer formula that's loaded with Vitamin E, and is also vegan, gluten & cruelty-free. And they're exclusively made in a Deluxe Mini size—they're adorable, the perfect purse size, and great for traveling (if you're doing that).
 
This year, we're treating you to three, brand-spanking new shades: Cherie lip crème in a warm berry nude, Soiree gloss in pink nude, and Rendezvous gloss in sheer cool nude. The new shades are bound to be next-generation versions of your neutral cult favorites. Grab these now, because they are major and sell out every year.
Best of Metallics Part Duex Deluxe Lip Crème Set
You all love the Metallic Long-Wear Lip Crème Liquid Lipstick, so we decided to stack a full range of pinks, plums, and roses for you. Six Deluxe Minis all in one set. Think: equals parts high-intensity shine, good-for-you formula, and serious longevity.  
 
COVID Beauty Tip: They wear perfectly under your mask because they look like a gloss but have the staying power of a liquid lipstick. So, there's no transfer from your lips to your mask.
Paris Lights Highlighter & Lip Oil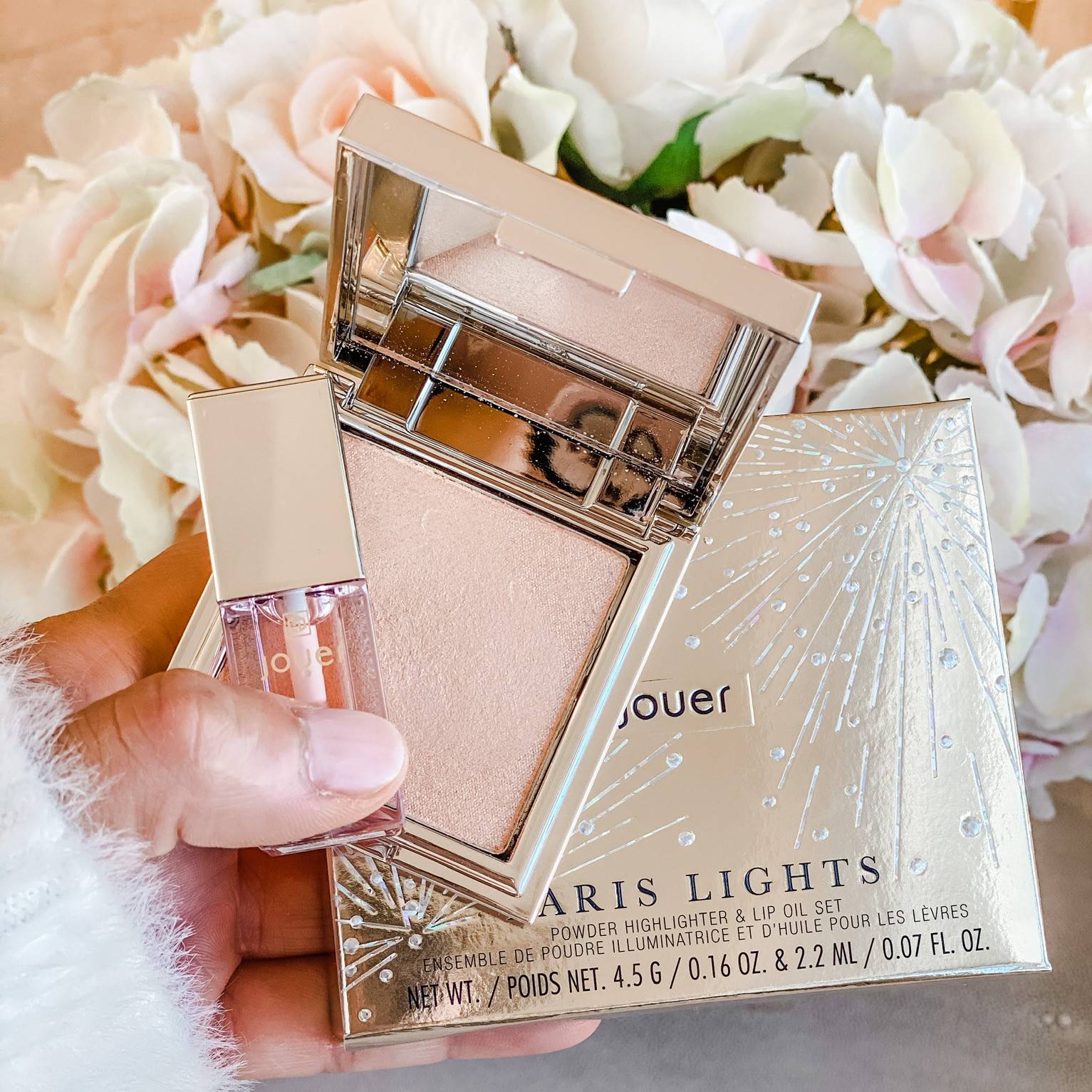 For this set, we paired our #1 bestselling Powder Highlighter in Citrine with a NEW Deluxe Mini version of the Essential Hydrating Lip Oil. The Highlighter's formula is so impressive: soft and buttery, applies seamlessly, never dries out. And the Lip Oil is filled with a formula of vitamins and antioxidants that creates a protective barrier to lock in moisture but keep your lips super shiny. Plus, it comes in beautiful gold packaging that sparkles.
Essential Lip Enhancer Sweet Deluxe Trio
There goes the old saying: If it ain't broke, don't fix it! Yes, that may be true, but there no reason why you can't zhuzh it up a bit. Right? 😘 For the Sweet Deluxe Trio, we took a mini version of our OG, ultra-rich lip moisturizer in a delicate Rose scent and created two more. This time, in Jouer's signature Vanilla scent and Sweet Mint. It also might help to mention the incredibly rich formula, which consists of Jojoba Seed Oil, Maxi-Lip™, and Shea Butter.  
 
The video below details each of the products, and the collection is on the site here. Happy Holidays to all my Jouer friends!
---